Good news!
You can get all food items including Fresh Food and Groceries at your fingertips.
Register your own Name online.
Add our address in your delivery address.
Paid via debit or credit card online.
(take note: No cash transactions with Tesco Delivery Staff)
Book the Date and Time Slot. Ensure you're at guesthouse to accept the goods.
Super Easy.
cheers, Lyn
https://causewaylink.com.my/airport-shuttle-bus
Bus Fare from Senai Airport to JB Sentral is RM8/pax. Journey time approx 45minutes.
We are located before JB Sentral. Do ask the bus driver if he can drop you off along Jalan Skudai. Take taxi from bus stop to our place. It's nearer and cheaper for you.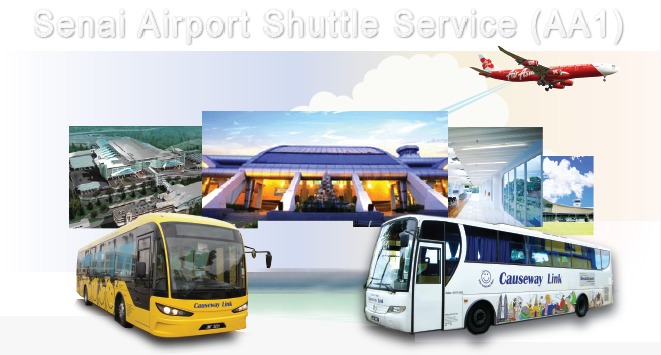 Traveling from JB
Senai Airport Shuttle Service (CWA)
| | | | | | |
| --- | --- | --- | --- | --- | --- |
| Trip | JB Sentral | Senai Airport | Trip | Senai Airport | JB Sentral |
| | DEPARTS | ARRIVES | | DEPARTS | ARRIVES |
| 1 | 05:30AM | 06:10AM | 1 | 06:10AM | 06:50AM |
| 2 | 06:00AM | 06:50AM | 2 | 07:00AM | 07:40AM |
| 3 | 07:00AM | 07:50AM | 3 | 08:00AM | 08:40AM |
| 4 | 08:00AM | 08:50AM | 4 | 09:00AM | 09:40AM |
| 5 | 09:00AM | 09:50AM | 5 | 10:00AM | 10:40AM |
| 6 | 10:00AM | 10:50AM | 6 | 11:00AM | 11:40AM |
| 7 | 11:00AM | 11:50AM | 7 | 12:00PM | 12:40PM |
| 8 | 12:00PM | 12:50PM | 8 | 01:00PM | 01:40PM |
| 9 | 01:00PM | 01:50PM | 9 | 02:00PM | 02:40PM |
| 10 | 02:00PM | 02:50PM | 10 | 03:00PM | 03:40PM |
| 11 | 03:00PM | 03:50PM | 11 | 04:00PM | 04:40PM |
| 12 | 04:00PM | 04:50PM | 12 | 05:00PM | 05:40PM |
| 13 | 05:00PM | 05:50PM | 13 | 06:00PM | 06:40PM |
| 14 | 06:00PM | 06:50PM | 14 | 07:00PM | 07:40PM |
| 15 | 07:00PM | 07:50PM | 15 | 08:00PM | 08:40PM |
| 16 | 08:00PM | 08:50PM | 16 | 09:00PM | 09:40PM |
| 17 | 09:00PM | 09:50PM | 17 | 10:15PM | 10:55PM |
| 18 | 10:00PM | 10:50PM | 18 | 11:30PM | 12:10AM |